Normativity and mental health when working with LGBTQI+ clients with HELEN ROWLAND
January 23 @ 11:30 am

-

January 24 @ 3:30 pm
|
490RON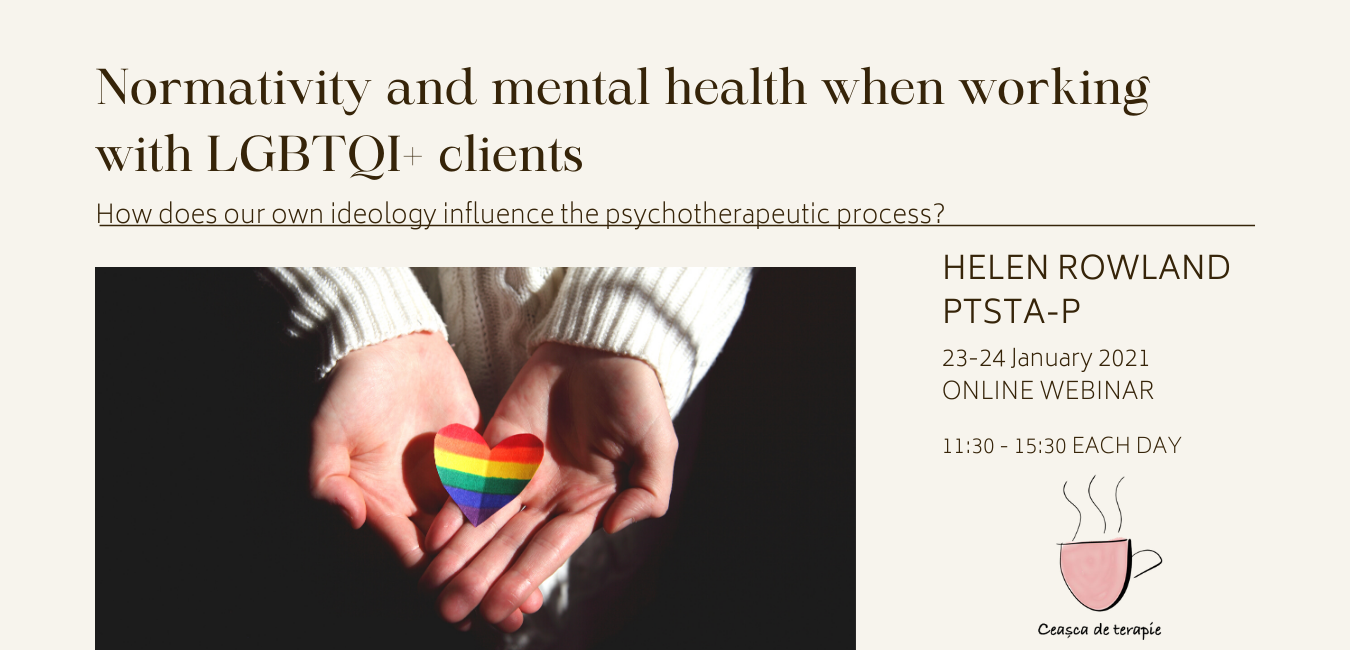 DATES: 23-24 January 2021, 11:30 to 15:30 Bucharest time (total of 8 hours of training)
LOCATION: online through ZOOM
PLACES: maximum 15 participants, in order to facilitate whole-group discussion
DEADLINE to sign-up: 30th of December
PRICE: 100 EUR
¡THIS WORKSHOP IS IN ENGLISH AND WILL NOT HAVE TRANSLATION.!
In today's socio-political climate it has become more important than ever to understand and develop empathy for minorities' issues. Racial, ethnic, sexual, religious minorities all over the world are constantly fighting for freedoms and rights that the majority has already acquired. Issues such as discrimination, violence, abuse, bullying, social and personal identity crises are very present for minority clients who come to our office for psychotherapy.
In Eastern European culture in particular, some of the discussions about these issues are overdue. For this reason, we are organizing an online workshop to tackle the specifics of working with the LGBTQ+ community in psychotherapy.
We have invited Helen Rowland, PTSTA-P, to guide our learning for 2 days, on the 23rd and 24th of January 2021. Helen is an experienced psychotherapist, trainer and supervisor in the UK. Her plan for our 2 day training is:
We will spend the first day in discussion, deconstructing the normative ideologies around LGBTQI in Romanian culture and in European and British culture.
On the second day we will spend time studying some theory: how to work with script theory and LGBTQI, critiquing the decisional model of TA, deconstructing ideas about 'psychological health' in TA.
These two days will be very interactive, with the purpose of creating a community learning experience where we can share ideas, debate and respectfully disagree on the concepts we will focus on.
Places on this online workshop are limited to 15! So hurry up and grab your spot!
Helen Rowland is a provisional teaching and supervising transactional analyst (P) in independent private practice in Scotland, UK. She is interested in identity politics, power and oppression, and the ways in which psychotherapy addresses the presence of normative ideologies in the consulting room. She is a coeditor of the Transactional Analysis Journal and has a paper currently in production entitled  'Gender Identity, Queer Theory, and Working with the Sociopolitical in Counseling and Psychotherapy: Why There Is No Such Thing as Neutral'. coauthored with William F. Cornell.
==========
DATA: 23-24 ianuarie, 11:30 – 15:30 (în total 8 ore de formare)
LOCATIA: online prin ZOOM
LOCURI: limitate la 15 participanți, pentru a putea crea o atmosferă de grup și dezbatere
DATA LIMITĂ PENTRU ÎNSCRIERI: 30 decembrie
PRETUL: 490 RON
¡ACEST WORKSHOP ESTE ÎN LIMBA ENGLEZĂ ȘI NU BENEFICIAZĂ DE TRADUCERE.!
În climatul socio-politic actual, a devenit mai important ca niciodată să înțelegem și să dezvoltăm empatia pentru problemele minorităților. Minoritățile rasiale, etnice, sexuale, religioase din întreaga lume luptă constant pentru libertate și drepturi pe care marea majoritate le-a dobândit deja. Probleme precum discriminarea, violența, abuzul, agresiunea, crizele de identitate socială și personală sunt foarte prezente pentru clienții minoritari care vin la cabinetul nostru pentru psihoterapie.
În special în cultura est-europeană, unele dintre discuțiile cu privire la aceste probleme sunt întârziate. Din acest motiv, ne-am propus să organizăm un atelier online pentru a aborda specificul lucrului cu comunitatea LGBTQ + în psihoterapie.
Am invitat-o ​​pe Helen Rowland, PTSTA-P, să ne ghideze învățarea timp de 2 zile, pe 23 și 24 ianuarie 2021. Helen este un psihoterapeut cu experiență, formator și supervizor în Marea Britanie. Planul ei pentru acest workshop de 2 zile este următorul:
– Prima zi o vom petrece în discuții, deconstruind ideologiile normative din jurul LGBTQI în cultura română și în cultura europeană și britanică.
– În a doua zi vom petrece timp studiind diverse teorii: cum să lucrăm cu teoria scenariului de viață și LGBTQI, criticând modelul decizional al Analizei Tranzacționale (AT), deconstruind ideile despre "sănătatea psihologică" în AT.
Ne propunem ca aceste două zile să se desfășoare într-un mod interactiv, cu scopul de a crea o experiență de învățare comunitară în care să putem împărtăși idei, dezbateri și chiar să nu fim de acord, cu respect, asupra conceptelor pe care ne vom concentra.
Locurile la acest eveniment sunt limitate la 15!
Mă înscriu!